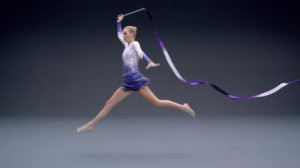 Well, it finally happened!
My mom always warned me that 'if you're horsing around, someone is bound to get hurt.'  Of course, her prediction technically took a few decades to actualize.
On Tuesday night, we were enjoying "Wizard of Oz" at movies in the park.  What happens when you're enjoying a childhood classic?  You start to act like a kid with or without wine.  Louis decided to see if he could balance Scooby on his legs in flying mode.  Right?  We had seen a kid movie.  We were in the park.  Why not?
And truthfully, he had her… until he didn't.  They fell into me and I crumpled.  I twisted my knee.
Now, I'm the first to admit to having bad knees… for as long as I can remember.  Extended Catholic masses with a lot of kneeling make me cringe in pain.  When I'm serving at the restaurant, I sometimes feel my knee go one way and the rest of my body the other.  In yoga, I always do a double blanket fold for extensive table top poses.  I'm not the bee's knees in anyway.
So, I'm used to a little twisted knee pain.  Unfortunately, I ruined my FitBit record. Since I put on my bracelet on July 9th, I've walked over 10,000 daily steps… averaging 13,000.   Wednesday, I fitbit the small one with 4,753 steps.  I'm doing better today but I probably won't hit 10,000.  My FitBit buds are going to emerge victorious over me in the competition.  I'll miss being #1.
Probably, the worst part was I was going to work out with Josh on Wednesday morning.  He was returning triumphantly from knee surgery convalesce.    And I had to cancel on him with a knee injury.  Too ironic!  In his absence, I was eager to show-off my increasing dreadmill speed.  Damn the luck!
Weirdly, I recently saw a friend my age on the street.  He was using a cane.  He said he was running for the bus in last weekend's crazy storm.  He injured his ankle and knee. I remember saying a little prayer of thanksgiving for being in prime health.  Truthfully, I was probably smug.
So, I'm hobbling.  I'll bounce back.  My new jam on the dreadmill and in life is Taylor Swift's diddie.
I stay up too late, got nothing in my brain
That's what people say, that's what people say
I go on too many dates, but I can't make them stay
At least that's what people say, that's what people say
But I keep cruising, can't stop, won't stop moving
It's like I got this music in my mind saying it's gonna be alright
Cause the players gonna play, play, play, play, play
And the haters gonna hate, hate, hate, hate, hate
Baby, I'm just gonna shake, shake, shake, shake, shake
I shake it off, I shake it off
Heartbreakers gonna break, break, break, break, break
And the fakers gonna fake, fake, fake, fake, fake
Baby, I'm just gonna shake, shake, shake, shake, shake
I shake it off, I shake it off
I'll never miss a beat, I'm lightning on my feet
And that's what they don't see, that's what they don't see
I'm dancing on my own, I'll make the moves up as I go
And that's what they don't know, that's what they don't know
But I keep cruising, can't stop, won't stop grooving
It's like I got this music in my mind and it's gonna be alright
Cause the players gonna play, play, play, play, play
And the haters gonna hate, hate, hate, hate, hate
Baby, I'm just gonna shake, shake, shake, shake, shake
I shake it off, I shake it off
Heartbreakers gonna break, break, break, break, break
And the fakers gonna fake, fake, fake, fake, fake
Baby, I'm just gonna shake, shake, shake, shake, shake
I shake it off, I shake it off
I, I shake it off, I shake it off
I, I shake it off, I shake it off
Hey, hey, hey, just think while you've been getting down and out about the liars and the dirty, dirty cheats in the world you could have been getting down to this sick beat
My ex-man bought his new girlfriend
She's like "oh my God", but I'm just gonna shake it
And to the fella over there with the hella good hair
Won't you come on over, baby, we can shake, shake, shake
Cause the players gonna play, play, play, play, play
And the haters gonna hate, hate, hate, hate, hate
Baby, I'm just gonna shake, shake, shake, shake, shake
I shake it off, I shake it off
Heartbreakers gonna break, break, break, break, break
And the fakers gonna fake, fake, fake, fake, fake
Baby, I'm just gonna shake, shake, shake, shake, shake
I shake it off, I shake it off
I, I shake it off, I shake it off
I, I shake it off, I shake it off