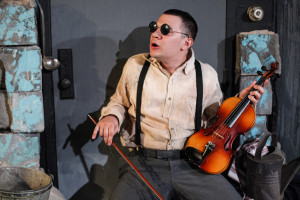 Mary Arrchie Theatre presents HELLISH HALF-LIGHT: Shorter Plays of Samuel Beckett.
Playwright Samuel Beckett based his art on the study of human nature.  Beckett created odd characters and put them in weird scenarios.  And he tells his stories in abrupt minimalism. The audience is thrown into a life already in progress and forced to acclimate within a short span. Plus, his dialogue isn't typical banter either.  It's more like an unfiltered flow of consciousness.   Beckett isn't for everyone.  And Beckett times six is a hardcore fan's fantasy, a novice's literary immersion or a hater's lingering punishment.  I fall somewhere between fan and novice.  I had not seen any of these plays and thoroughly enjoyed 4 out of 6.
Under the ambitious direction of Jennifer Markowitz, Beckett's short plays transition smoothly from one to another.  In particular, "Rough for Theatre II" to "Catastrophe" seamlessly rolls a statuesque Rudy Galvan into his next role for objectified attention. In another sequence, "Rough for Theatre I", the stage goes black.  And moments later, the characters from "Come & Go" are illuminated from a perch in the audience.  Markowitz makes some clever choices to keep the Beckett tribute moving.  
From the beginning piece, Galvan fully engages the audience in his depiction of a blind guy.  Galvan and the wheelchair-bound Stephen Walker interact in a forced co-dependency.  A cockeyed Galvan tries to coax the grounded Walker into fanciful discussion.  The apocalyptic absurdity singes with dark-comedy-covered-loneliness.  It is followed by a lighter and shorter piece with Kathrynne Wolf, Lauren Guglielmello and Molly Fisher.  The ladies form a scandal triangle.  Each time, one leaves the room the other two whisper of her misfortune.  The actual woes go unheard by the audience.  The unknown tragedies make the play weirdly relatable.  There is a connectivity in these conspiratorial gossip girls.
My favorite piece was "Rough for Theatre II."  Galvan is about to jump out of a window.  He impressively stays frozen in that pose for the duration.  Meanwhile Walker and Adam Soule sift through his life.  Walker and Soule are like the advance team before the Grim Reaper's appearance.  The metaphysical duo consult file folders to piece together Galvan's suicidal urges.  I found the concept and execution riveting.  Segueing into the very next piece, Galvan is unhinged from the window and rolled into a gallery.  There he is refashioned by a callous Walker and an accommodating Fisher.  The disregard for feelings is funny yet sad. The sequence of the first four pieces has a nice balance of heavy to light to heavy to light.   
The last two pieces were my speed bump.  "What Where" is this quirky sci-fi tale.  I  didn't care for the blunt futuristic nature.  The last play, ironically "Play," seems like something I would enjoy.  Galvan, Guglielmello, and Wolf are these heads on pillars.  In perfect synchronization, they take turns recollecting an incident. The problem is they are in a circle as is the audience.  Galvan is facing my side of the theatre.  I only can decipher what he is saying.  Between the air conditioning and the acoustics, I miss 2/3 of the narrative.  At one point their circle is turned, now I still hear Galvan plus the gal facing me but I'm missing the other 1/3.  And having missed most of the first half, I'm detached.  The innovative theatrics are flawed.   
Still, HELLISH HALF-LIGHT: Shorter Plays of Samuel Beckett is for both Beckett fans and novices eager to experience his unusual take on life.                                
Running Time:  One hundred minutes, no intermission
Angel Island, 731 W. Sheridan Rd., Chicago
Written by Samuel Beckett
Directed by Jennifer Markowitz
Thursdays, Fridays and Saturdays at 8 pm
*No performance on August 15th  
Thru August 30th 
Buy Tickets at www.ticketweb.com 
Production photo courtesy of Emily Schwartz
For more information and reviews on Chicago Theatre, visit Theatre in Chicago.