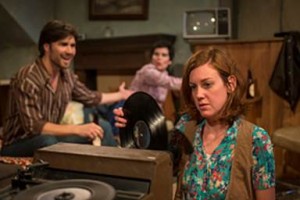 Cole Theatre presents its inaugural production, ECSTASY.
It's 1979.  Do you know where your life is?  Jean doesn't.  Playwright Mike Leigh drops us into her flat.  Her dismal efficiency is decorated in Mid-Century spinsterhood by Scenic Designer Grant Sabin. The room is cluttered with empty beer bottles, mismatched furniture and gin-soaked novels.  A singular drip of water is the nearby, muffled soundtrack.  On the bed are two naked people.  Their body language suggests the awkward aftermath of a drunken hook-up.  And so it begins…       
The stellar creative team from A Red Orchid's sensational "Abigail's Party" are back together serving up big boozy shots of reality.  Director Shade Murray again combines a Leigh script, a talented ensemble and a whole lot of drunken buffoonery.  The alcohol acts as a truth serum in Leigh's examination of London's working class in the late 70s.  His dialogue has the playful and messy banter of talkers under the influence.   
In the first act, Maura Kidwell (Jean) is aloof.  She and Joel Reitsma (Roy) part ways like nonemotional f#ck buddies.  Enter Michaela Petro (Dawn) bubbling over with the excitement of a mother of three on furlough.  The animated Petro captivates.  Her heavy-duty British accented monologue mesmerizes and not just because her genuine dialect requires concentration. Petro also brings effervescence into the bleak room. We begin to understand somber Jean through cheerful Dawn.  Always on the fringe, Kidwell plays Jean with quiet, heart-wrenching resignation.  Act 1 gives a glimpse into Jean's shabby existence.      
Act 2 is a party!  Petro has spearheaded an outing with herself, her husband Mick (played by the charmingly Irish Boyd Harris), Kidwell and their long-lost friend Len (played by the adorably nerdy Layne Manzer).  The four adults reminisce about past escapades.  They drink and recollect with zest.  Under Murray's direction, Petro, Harris and Manzer get bombed.  It's authentic!  Petro slurs her words.  Harris gets tearfully sentimental.  Manzer finds his liquid courage as he boldly stumbles through an 'impromptu' song.  The sloshed merriment induces wheezing, dancing and bed-jumping.  Petro and Harris, in particular, showcase high-spirited and spirits-driven shenanigans.  The couple heighten the physical comedy as they lovingly wrestle, tussle and smack each other.  
All Petro and Harris' frenzied energy adds to Kidwell's less visible presence.  At one point, Harris coaxes Kidwell into singing.  And Kidwell sings a hauntingly beautiful "Danny Boy" before returning back to her seat in the corner.  After the party roars home (Harris leaves piggy-back riding Petro), Kidwell shares her secrets with the very likable Manzer.  The final scene is a powerful wrap-up.  It's not so much the conversation as the silent actions that finish the tale on a hopeful note.  
ECSTASY is an ambitious and aggressive inaugural production for Cole Theatre… just even from a dialect standpoint. Leigh requires the play be performed in dialects covering the regions of Birmingham, County Cork, rural Lincolnshire and inner North London.  Special kudos to Dialect Coach Elise Kauzlaric facilitating the multiple accents.   Along with the dialect coach, the script, the direction, the cast make this show a winner.  If "Cole" is Greek for "people's victory," I hope ECSTASY is the first of many coles for this new theatre company.
Running Time:  Two hours and fifteen minutes includes an intermission.
At A Red Orchid Theatre, 1531 N. Wells 
Written by Mike Leigh
Directed by Shade Murray
Thursdays, Fridays, Saturdays at 7:30pm
Sundays at 3pm
Thru September 28th 
Buy tickets at www.coletheatre.org 
 For more information and reviews on Chicago theatre, visit Theatre in Chicago.