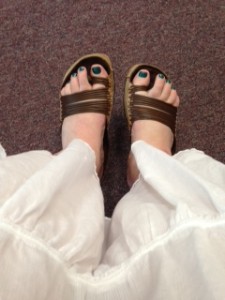 I live in fear of wearing white.
During the summer, I'm envious of carefree people in their long white linen and gauze.  They seemingly stroll in confidence and tranquility on the beach, through the meadow, along a city sidewalk.  They move like they are in a Downy fabric softener commercial.  Unfazed.  Unintimidated. Unconcerned.  Why can't I be like that?
Me?  I'm wearing a white skirt today.  I feel pressure.  The city seems like an obstacle course of grime and soot. I sense the ticking time bomb ready to explode on my apparel. I worry about falling down and getting a grass, blood or mud stain.  I'm also weirdly concerned about people throwing a dirt ball at me.  It's never actually happened before but I feel certain it would happen when I'm wearing white.
I know without a doubt there is a definite correlation between me wearing a white top and coffee spillage.  The two don't coordinate well together in my life.  I need to finish my coffee before I put on the white top.   I have a shoulder strap purse that has only made a mark on my two white tops.  No other top has ever been affected by this purse.  Let's face it!  The whites hate me.  They tease me into taking a risk and then mark me for life.
Yet, I continue to put myself smack dab in my discomfort zone, among the fickle whites.  If I get home tonight unblemished, I will be stunned.  Fingers crossed!