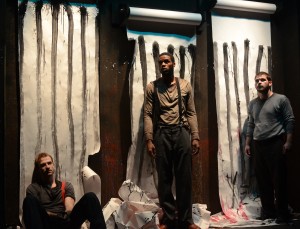 Oracle Theatre presents the world premiere adaptation of THE JUNGLE.
Upton Sinclair's classic novel is a grim reflection of the ugly reality of Chicago stockyards in the early 1900s.  Director and adapter Matt Foss actualizes Sinclair's vision in what can best be described as a unique, blood-splattering spectacle.  This show is the epitome of performing arts.  The theatrical artistry relies heavily on four rolls of paper.  Three hung vertically on the wall and a horizontal one on the side.  The performers pull, paint, and rip the paper to illustrate an action.  
A significant amount of paper and paint are used in the storytelling.  Sailing across the ocean is a long blue line with a model ship.  The aesthetic is charming.  Slaughtering cows in the stockyard uses a metal silk screen, two spray paint bottles, butcher knives and red paint.  The action is harsh and intense.  Foss brings a ritualistic rhythm to this dark chaos.  As the guys mutilate the paper cows, the gals gather the scraps for disposal. Behind a door is the fertilizer room.  It's the place were the unusable animal parts are boiled down.  Throughout the show, characters talk about the stench from the fertilizer room.  Every time that door opens, smoke billows out and I hold my breath to not breathe in the phantom toxicity.  Foss puts you and all of your senses in this early twentieth century stockyard.  Aided by Sam Allyn's haunting score, THE JUNGLE is probably exactly the nightmare carnivores have before they turn vegetarian.           
How Foss tells this story is riveting.  The special effects are equally bizarre and marveling.  The story itself takes a backseat in a paper-covers-rock win.  Although the ensemble works hard in mangling paper carcasses, the actual human interactions seem less passionate.  Travis Delgado (Jurgis), in particular, starts out emotionless.  His lack of feeling makes him seem like an unlikely match for the demonstrative Stephanie Polt (Ona).  It takes a series of misfortunes for the audience to connect with Delgado.  At first, we are detached in his misguided choices. Later, he is at his most engaging spiraling completely out of control.  His frenzied response makes him…finally… an empathetic character.  
Having seen the Jeff Award-winning THE MOTHER, I couldn't help but make comparisons. Russia vs USA.  Both are about the working class strife.  The similarities are globally apparent.  The differences are more subtle. There is definitely more industrial-strength pageantry in this American based conflict. Yet, the sentimental investment is not as substantial as inTHE MOTHER. Still, I recommend THE JUNGLE as truly a one of a kind experience.                
Running Time:  One hundred minutes with no intermission
At Oracle Theatre, 3809 N. Broadway
Written by Upton Sinclair
Adapted and directed by Matt Foss
Music by Nicholas Tonozzi
Score by Sam Allyn
Fridays, Saturdays, Mondays at 8pm
Sundays at 7pm
Thru September 6th 
Reserve Tickets at www.publicaccesstheatre.org 
Free entrance, donations collected
Photo by Jason Fassl
For more information and reviews on Chicago theatre, visit Theatre in Chicago