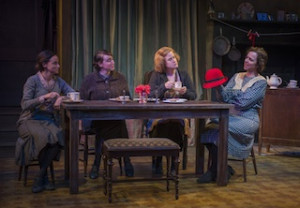 Griffin Theatre Company presents the Chicago premiere of MEN SHOULD WEEP. 
Playwright Ena Lamont Stewart wrote about working class reality in 1930s Glasgow, Scotland.  Lamont Stewart gives a gritty portrayal of a depression era family.  Maggie Morrison lives with an unemployed husband, 5 kids, a daughter-in-law and granny in a tiny three room flat. She also has frequent visitors, the neighbor-ladies and her sister Lily.  As Maggie (played deftly by Lori Myers) struggles to keep the family from starving, her world starts to unravel with her son's rocky marriage, her daughter's vocal disdain and her wee one's fragile health.  Although Lamont Stewart paints a bleak family portrait, she uses colorful characters and bright humor to add a layer of warmth and Scottish charm.     
Under the direction of Robin Witt, the terrific ensemble pulls us into their drab tenement and force us to experience life from the inside-out.  At the core, the impressive Myers is an everyday hero.  A visibly worn Myers defends her husband's honor and scrounges for food scraps with equal intensity.  Her cackling cronies (Katherine Banks, Christina Gorman, Ashley Neal) nod in supportive agreement but they know the unspoken truth about Glasgow men.  Even granny (played by the feisty Maggie Cain) goes along with the daily routine but finds plenty of opportunity to inject a snarky comment.  Lamont Stewart pens a powerful tribute to the oppressed and resilient women of the time period.     
The Morrison lads represent the lacking male population.  They feel entitled to a gender dominant culture yet fail to provide for their own family.  The likable Scot West (John) is a learned idealist.  West speaks of civilization with his strong moral fortitude.  His son, on the other hand, aggressively demands what he believes is his. The volatile Curtis Jackson (Alec) gets in an unsettling row with his saucy wife (played by the dynamic Amanda Powell).      
Witt uses the house designed by Courtney O'Neill to stage some offstage drama.  An actor goes to the window and screams to the people below and the noise encircles the house and comes in through the front door (sound designer Victoria (toy) Deiorio).  In another interesting choice, a sick child is just behind a curtained cubby.  With Deiorio's recorded crying sounds and Myers and West peeping behind the curtain to soothe, it almost feels like we've seen this invisible wee one. The family ties are strongly present in the good and bad times. Witt directs this with homespun, heart-tugging tightness. Act 2 had a few over-the-top dramatic interactions but Act 3 came back strong for a poignant finish. Special nod also out to Dialect Coach Adam Goldstein for facilitating authentic Scottish brogues.   
MEN SHOULD WEEP was initially received poorly by the Glasgow male community.  Not surprisingly, the men aren't "Braveheart"-worthy.  Still, after being neglected for forty years, the play has been named "Top 100 Plays of the Century" by National Theatre of London.  MEN SHOULD WEEP hasn't been performed in America since 1984. Griffin Theatre does an outstanding job of telling this rarely told story.  MEN SHOULD WEEP should be seen.           
Running Time:  Two hours and forty minutes includes two intermissions
At Raven Theatre, 6157 N. Clark
Written by Ena Lamont Stewart
Directed by Robin Witt
Thursdays, Fridays, Saturdays at 7:30pm
Sundays at 3pm
Thru August 10th 
Buy Tickets at www.griffintheatre.com 
Production photo by Michael Brosilow
For more information and reviews for Chicago theatre, visit Theatre in Chicago.