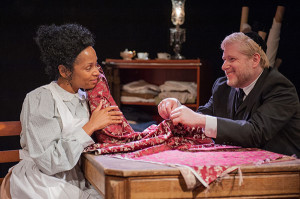 Eclipse Theatre presents INTIMATE APPAREL as the second offering in their Lynn Nottage season, one playwright-one season.
This play about a seamstress is all about the detailed construction.  Scenic Designer Kevin Hagan creates a variety of rooms in limited space.  Director Steve Scott assembles the multiple lives within these individual locales.  Playwright Lynn Nottage establishes a heroine piecing together her life from an eclectic collection of relationships. The story lays out like a tightly woven patchwork quilt.   
Kelly Owens (Esther) plays the spinster seamstress.  Owens yearns for a different life.  It's 1905.  She is thirty-five and African American.  She'd like a man and her own business.  The charming surprise of this show is Owens' complex performance. She skillfully balances resignation with wistfulness and naivete with moxie.  One moment, she hides in bitter resentment during another's wedding.  And the next, she enters into a long distance dalliance with a stranger.  She dresses prudish but she is making a living sewing lingerie.  And even more odd is her significant relationships are with a hooker and a fabric salesman.  
Nottage pulls us into this unexpected world of Esther.  Owens introduces us to the quiet, hardworking Esther.  Her monotonous past has been predictable.  When a man starts courting her from afar, her sensuality is awakened.  Suddenly, fabric selection takes on an erotic energy.   With the perfect accent and mannerisms, Eustace Allen (Mr. Marks) plays the conservative Jewish fabric salesman.  Allen endears in his shyness.  He eagerly shares his favorite fabrics with Owens.  When she gets to close, he recoils. Their interactions are these formal yet taboo exchanges. They demurely flirt as each lovingly fingers delicate materials. The vicarious focus on tactile sensations is what great old-fashioned romances are built on.                  
Later, Owens hangs with her brassy hooker friend Mayme (played by the vivacious Ebony Joy).  As subtle as Owens is with Allen, she is just the opposite with Joy.  They cackle and drink gin like war buddies.  Owens is chameleon-like as she transforms in each situation.  Owens fits a high society woman (played by the alluring Skye Shrum)for a corset.  She is all business as Shrum tries to regale her with gossip.  Owens continually tailors herself for each person. When Brandon Greenhouse (George) arrives in her life, she has to make a few life adjustments.    
INTIMATE APPAREL looks below the surface to truly understand one woman's desires.   The engaging story brought together unusual pairings. The talented ensemble wooed and chortled with equal enthusiasm.  Some of the pacing was sluggish in spots but overall the show was captivating.  In particular, I enjoyed how Scott ended the first act and the show.  They were picture perfect moments of possibility. 
Running Time:  Two hours and thirty minutes includes an intermission
At Athenaeum Theatre, 2936 N. Southport
Written by Lynn Nottage
Directed by Steve Scott
Thursdays, Fridays, Saturdays at 7:30pm
Sundays at 2pm
Thru August 24th
Buy Tickets at www.athenaeumtheatre.org
Production photo by Tim Knight.
For more information and reviews on Chicago theatre, visit Theatre in Chicago.