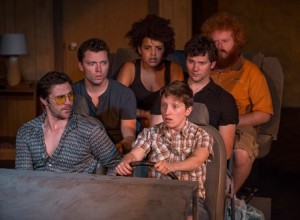 The New Colony presents the World Premiere of ORVILLE AND WILBUR DID IT.
This is a play about a musical, a touring non-equity musical.  Five actors and a stage manager are on a road trip.  They are bringing children's theatre to our nation's schools.  As the troupe sings and dances a Wright Brothers' tribute in America's heartland, they not-so-secretly yearn for a New York run extension. Each actor longs to be 'discovered.'  Meanwhile, they survive the perils of living and performing together with sex, drugs and an otter.
Playwright David Zellnik had an original idea.  He wants to showcase the reality of an actor's fantasy.  Zellnik forces his distinct characters into a van and sends them on a road trip.  The show within the show has merit.  Along with composer Eric Svejcar, Zellnik creates this bright and cute historical diddie for kiddies. We experience snippets of this work within the bigger play. The bouncy motivational message could make great children's theatre.  The effervescent curtain call song lists other historical figures who followed their dreams and 'did it.' This finale is the kind of catchy tune that engages curiosity in children and spurs a series of historical 'did it' musicals.  This one with Oliver and Wilbur even has a magic bird played by Joey Romaine (Pandora).  Romaine hilariously channels his inner Zach Galifianakis as the good-natured dolt who charms in a plushy meets grinder way.
The show isn't about the kids.  It's about the actors.  As is The New Colony Process, the playwright works with the cast to develop the play further.  This vagabond ensemble devises behind-the-curtain scenarios.  Under the direction of Andrew Hobgood, these actors bring personality to their structured improv. In particular, Josh Odor (Scraggs) plays smarmy actor with a perfect creepy vibe.  And the uptight Jessica London-Shields (Jen) loves the show, her roommate and an otter with equal intensity.  London-Shields plays innocence with awkward adorableness.
Actors playing actors in a play about a musical that is touring the country has potential.  Although the insider's perspective intrigues, the execution drags.  There are comedic bursts but nothing sustaining.  A late in the second act appearance by Alex Grelle (X) is the first laugh out loud moment for me. Grelle, on arrival, projects over-the-top absurdity. Although his shit shtick is funny, it too gets old. The bits by the actors 'offstage' and away from the children's musical feel cobbled together and cumbersome. The story relies heavily on a touring actor troupe being a common experience.  Throughout the play, the guy next to me was bent over laughing hard.  I suspect he is an actor.  For the rest of us, it's like being sober at a cast party.
ORVILLE AND WILBUR DID IT: The New Colony did it… for theatre folk.
Running Time:  Two hours and ten minutes included an intermission and a delayed start
At Signal Ensemble Theatre, 1802 W. Berenice
Book and lyrics by David Zellnik
Music composed by Eric Svejcar
Directed by Andrew Hobgood
Thursdays, Fridays and Saturdays at 7:30pm
Sundays at 6pm
Thru July 20th
Buy Tickets at www.thenewcolony.org
Production photo by Michael Brosilow
For more reviews and information about Chicagoland theatre, visit Theatre in Chicago.