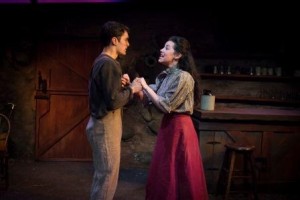 Raven Theatre presentsTHE PLAYBOY OF THE WESTERN WORLD.
The 1907 premiere of this play incited what became known as the 'Playboy Riots.' Ireland did not respond well to Playwright J.M. Synge's work.  First, his hero, Christy Mahon, is a lad claiming to have killed his father.  Christy, as a fugitive,  finds refuge and admiration in a neighboring village.  The locals are enamored by his grim tale especially the women.  And that leads to the other issue, Synge's Irish women are portrayed indecently.  The instantly smitten gals compete for the love of the outlaw.   In his story, Synge makes fun of killing a father, bedding a lass and, maybe most controversial of all,  being a staunch Catholic.
Fast-forward 107 years, Synge's play is a charmer. In Ireland, 'playboy' inferred con man.  In America, the interpretation is more light-hearted.  A playboy is a ladies' man.  After a century, Synge's play still entertains.  The comedy ages as more tongue-in-cheek than dark.  And Director Michael Menendian stages it as a light-hearted, whiskey-swilling, man-chasing frolic.
Upon arrival, we're transported to Ireland. Scenic Designer Andrei Onegin constructed an authentic-looking, stone and muck built cottage.  The detailed work is impressive with rafter beams, a dutch door and even an oversized fireplace with a swinging iron arm for warming the kettle. Properties Designer Mary O'Dowd fills the pub with the utilitarian odds and ends of an impoverished community gathering place.  The visual is classic Ireland.
From the start, Jen Short (Pegeen Mike) captivates.  Dialect Coach Jason K. Martin has done a grand job altogether making this large ensemble Irish. Short's brogue, in particular, is a natural standout.  As the fiery lady of the house, Short regularly reprimands her father and others with rapid-fire dialogue.  Short continually goes from shrew to coquette with a perfect Irish lilt.  Martin's work is so effective that at times the men's drunken conversations require intense active listening.
Throughout the play, Menendian keeps the wordplay tight for the comedic effect.  A scene between Sam Hubbard (Christy) and the village women (Leah Frires, Sarah Hayes,  Martha Reddick, Lindsay Tornquist) brings out outrageous flirting to humorous heights.  Menendian, along with Fight Choreographer David Woolley, also instills ongoing slapstick buffoonery.  Hubbard, doubling as fight captain, especially shows off some impressive physical feats.  At one point, Hubbard and a table become the centerpiece to enterprising rope tricks.  With all the ongoing antics, a hilarious Graham Emmons (Shawn) notably cowers on the fringe.
THE PLAYBOY OF THE WESTERN WORLD is ideally positioned for the holidays.  There is romance for St. Valentine's Day.  There is drunken Irish tomfoolery for St. Patrick's Day. Spending time in *this* Irish pub is a winsome respite from the Chicago winter.
Running Time:  Two hours includes an intermission
At Raven Theatre, 6157 N. Clark
Written by J.M. Synge
Directed by Michael Menendian
Thursdays, Fridays, Saturdays at 7:30pm
Sundays at 3pm
Thru April 5th
Buy Tickets at www.raventheatre.com
Photos by Keith Claunch