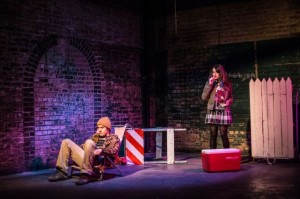 Jackalope Theatre Company presents the World Premiere of THE KILLING OF MICHAEL X:  A NEW FILM BY CELIA WALLACE.
Jackalope takes full advantage of their new home at the Broadway Armory.  They impressively utilize the huge, loft space to present this play about the making of a movie.  From the start, the word 'stylish' resonated in my head.  Not only does Director Kaiser Ahmed utilize two oversized mobile screens, he uses one of the brick walls for projections. The movie is brilliantly weaved into the action. In one scene, the film and the actors mimic each other in a wily shoot-out on three screens.  The multi-media design showcase is by Alex Hand (videography and film), Neil Pandya (projections) and Thomas Dixon (sound design and original music).  The visual and audio actualize the play in a way I've never experienced before on stage.  It's a contemporary theatrical experience that I didn't even grasp until the final scene. The original innovation is unforgettable.
In the lead, Joanne Dubach (Celia) gives a twisted performance.  Dubach delivers a tireless tirade of ongoing teenage angst.   She effectively alienates everyone… even the audience.  Dubach looks and acts like Lindsay Lohan making a movie. She's a hot mess! Then, she sits down. And in her quiet, Dubach captures everyone's attention and empathy.  The terrific ensemble, Andrew Goetten, Charlie Strater, Jared Fernley, and Kristin Collins, play multiple personalities even within the same role.  This play about Celia's movie is just so clever!
Initially, I found Playwright Cody Hinkle's script a bit muddled.  The scenes were odd.  The transition between scenes was clunky.  I didn't get it until I got it and then I was blown away.  I'm intentionally staying vague so not to ruin the uniqueness of this live cinema. THE KILLING OF MICHAEL X is to be experienced.
Running Time:  Ninety minutes with no intermission
At Broadway Armory Park, 5917 N. Broadway
Written by Cory Hinkle
Directed by Kaiser Ahmed
Thursdays, Fridays, Saturdays at 7:30pm
Sundays at 3pm
Thru April 13th
Buy Tickets at www.jackalopetheatre.org