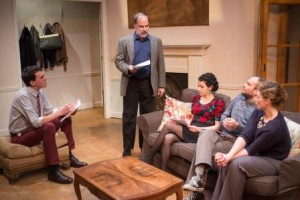 Haven Theatre presents the Chicago Premiere of SEMINAR.
How do writers learn to write?  Playwright Theresa Rebeck explores her profession in this tale of 4 wannabe novelists.  Rebeck's characters share their writings and desires during their weekly group.  Their work and lives are scrutinized and berated by an unconventional instructor.  Rebeck uses witty wordplay in this story competition.
Although I enjoyed the play's premise, Rebeck's character development gave me pause, specifically her female characters.  I was surprised that Rebeck, a woman and a writer, would have both her women prey to misogynistic seduction.  The hilarious Mary Williamson (Kate) plays a strong, fast-talking female.  Williamson delightfully delivers vulnerability and moxie despite the brutish pressure of Tom Hickey (Leonard). Williamson starts out as the hell-raising heroine and then her story line disappointingly shifts.  From the get go, Atra Asdou (Izzy) is an energetic sex kitten.  Her primary getting-laid focus makes her unlikely to have paid $5,000 for a writing seminar. These characters' outcomes aren't unfamiliar.  They are just usually the invention of a male imagination.
Despite the gender speed bump, the ensemble is terrific.  The males hold their own.  The anti-charismatic Hickey utters his disdain with unapologetic cruelty.  The raging Keith Neagle (Martin) and smug Carl Lindberg (Douglas) push their own alpha-dog agenda.   The cast delivers casual banter dripping with ambition.  The clever dialogue reinforces the idea 'behind every joke, there is a grain of truth.'  The writers do what writers do best use their words as tools and weapons.  Under the direction of Marti Lyons, the stories unfold as neatly as Scenic Designer Joanne Iwanicka's impressive set. Iwanicka's posh New York condo transforms brilliantly into a writer's hovel.   This set transition is pretty cool.
SEMINAR is a cerebral comedy.  Even the stranger-than- fiction turn of events for our heroine doesn't stop the enjoyment level of the show.  SEMINAR is a fun look at the preface of a new novelist.
Running Time:  105 minutes with no intermission
At Theater Wit, 1229 W. Belmont
Written by Theresa Rebeck
Directed by Marti Lyons
Thursdays, Fridays, Saturdays at 8pm
Sundays at 2pm
Thru April 13th
Buy Tickets at www.haventheatrechicago.com
Photos by Dean LaPrairie