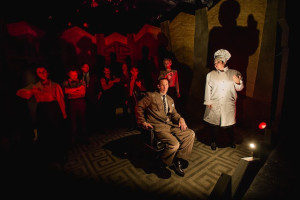 Oracle Theatre presents THE PRESIDENT.
John Arthur Lewis (Norrison) takes charge in this high energy farce.  Lewis plays a corporate mogul tasked with transforming a taxi driver into an ambassador in an hour.  Onstage for the entire duration, Lewis fires out his lines and decisions like a semi-automatic machine gun.  And his ongoing delivery is deadpan perfection only interrupted by his intermittent, momentary, emotional meltdowns.  Hilarious!  His unapologetic autocrat style seduces his entire staff and most of the audience.
Director Max Truax masterfully orchestrates this lampoon with razor-sharp timing and well-placed slapstick.  The play written by Ferenc Molnar and adapted by Morwyn Brebner has plenty of zingers about morality and social class.  It's a throwback to a "Mad Men" era where life was dictated by The Man and actualized by his staff.  Truax rejuvenates the old-timey set-up with physical comedy.  He has the terrific cast interject exaggerated movements that Sound Designer Steve Labedz audio-izes.  Whether the actor pounds, swishes, or types, Labedz matches the gesture to a noise.  As the unseen foley artist, he adds another layer of funny.
THE PRESIDENT is tight.  Truax paces the madcap romp with swirling speed.  The large cast enters and exits the small stage with seamless ease.  Some, like Spenser Davis and Eli Branson, are playing multiple roles within the short amount of time and space.  The noteworthy Davis and Branson showcase distinct personas heightening the buffoonery. And playing fresh meat in the secretarial pool, Steven Ratcliff even puts on a dress as an extra gag.   The fur covered Michelle M. Oliver (Lydia) is the impetus for all the fuss.  The wide-eyed Oliver plays it delightfully earnest. The young socialite role could come off spoiled and unsympathetic.  Yet, Oliver finds the spunky innocence behind a daughter's rebellion. It all works together amusingly in Truax's reinvention farce.
THE PRESIDENT is fun…this one anyway.  Elect to see it.  And as always, the Oracle Theatre is committed to providing public access to art.  "We make art.  We make it free.  We make it yours."  The tickets are free but take cash or a check.  You are going to want to give to THE PRESIDENT in the post-show collection.
Running Time:  80 minutes with no intermission
At Oracle Theatre, 3809 N. Broadway
Written by Ferenc Molnar
Adapted by Morwyn Brebner
Directed by Max Truax
Fridays, Saturdays, Mondays at 8pm
Sundays at 7pm
Thru May 31st
Reserve *FREE* Tickets at www.publicaccesstheatre.org
Photo by Joe Mazza