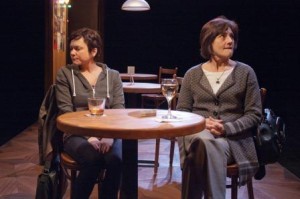 TimeLine Theatre presents THE HOW AND THE WHY.
Playwright Sara Treem masterfully intertwines the female reproductive system around a meeting of the minds.  Two evolutionary biologists meet for the first time.  They each have questions that only the other one knows the answers to.  Treem lets the story unfold naturally.  The professional banter turns personal as the scientists grapple with each other.  Their comfort level is in the gynecological probing.  The awkwardness comes from ordinary topics like boyfriends, parents and being female.
Under the direction of Keira Fromm, Janet Ulrich Brooks (Zelda) and Elizabeth Ledo (Rachel) are the perfect pairing.  They contrast beautifully.  Brooks plays the droll, wise scholar.  Ledo is the ambitious zealot.  Brooks wants to chat over champagne.  Ledo demands attention and distance with equal intensity.  They both rattle off clinical terminology with geeky ease.  From lights up, the duo are engaging.  The audience follows their every movement and word to puzzle together the mystery.
Fromm paces it with authenticity.  The initial encounter has a formal clumsiness to it.  As we understand who these ladies are, the awkwardness builds to tension.  While a dry Brooks muses witticisms, a frenzied Ledo won't be pacified.  Their ongoing search for common ground captivates.  We ride the rollercoaster of emotions with them.  Their lives are complicated. And they are trying to make sense of them together.  In one scene, they eat popcorn in unison.  The activity has a sentimental sweetness.  I get misty.  By the end of the play, we know what we want for these women.  Their last exchange is poignant.  I shed a tear or three.
Throughout the show, Treem keeps our attention by throwing out the occasional nugget of truth.  We are in the how.  And at pivotal points -right up until the ending, Treem answers why.  These regular epiphanies keep the evolving story riveting.  Four reasons to see THE HOW AND THE WHY:  Treem, Fromm, Brooks and Ledo.  This fierce female foursome knows how to put on a show.
Running Time:  Two hours includes an intermission
At TimeLine Theatre, 615 W. Wellington
Written by Sarah Treem
Directed by Keira Fromm
Wednesdays, Thursdays at 7:30pm (except 8:30 on March 5th)
Fridays at 8pm (no performance on March 14th)
Saturdays at 4pm and 8pm
Sundays at 2pm (additional 6pm performance on March 16th)
Thru April 6th
Buy Tickets at www.timelinetheatre.com