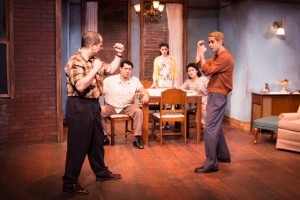 Teatro Vista presents A VIEW FROM THE BRIDGE.
Playwright Arthur Miller sets his obsessive love triangle on the 1950's waterfront.  Near the Brooklyn Bridge, the Red Hook neighborhood is home to longshoremen.  Eddie Carbone (played with distinction by Ramon Camin) works hard on the docks.  He likes to come home to a cold beer and the two women that love him.  When his wife's cousins arrive, the simplicity of his routine is interrupted by illegal immigrants.  Honor and lust battle for supremacy in one man's warped reality.
The crass waterfront is an unusual backdrop to explore the many types of love.  Miller uses possibly the least likely locale and person, a married longshoreman, to illustrate an all-consuming love.  And Camin rises and falls to Miller's challenge.  Camin perfectly resembles a tough guy protector.  In the opening scene, he issues decrees and warnings to both his wife (played by Sandra Marquez) and his ward (played by Ayssette Munoz).  A steadfast Marquez and adoring Munoz reinforce Camin's ultimate rule in the household. Their unconditional loyalty is endearingly old-fashioned.
Under the skillfully direction of Ricardo Gutierrez, the audience sees the VIEW from Eddie's perspective.  Gutierrez introduces the unsophisticated but hierarchical order of life on the waterfront.  Camin has had control over his world and the women in it.  When circumstances change, he struggles to accept the newness.  In particular, he is jealous of Munoz's growing affection for the charismatic Tommy Rivera-Vega (Rodolpho).  Camin throws up every possible argument to validate his possessive fervor. He then exasperatedly justifies his interference. The understated Marquez questions his and Munoz's actions.  Despite her steely resignation, hints of regret and vulnerability simmer below Marquez's facade.
There is a homespun Americana about this play.  The no-collar workers have the heart and humor and honesty of genuine employment satisfaction.  The sense of community is strong.  And respect is a life necessity.  Even though Arthur Miller's A VIEW FROM THE BRIDGEis riddled with nostalgic sensibilities, the fall of a man over his femme fatale is timeless.  Teatro Vista utilizes an all-Latino cast as its authentic storytellers.  Their VIEW  looks back and forward to see how love changes everything, for good or bad…forever.
Running Time:  Two hours includes an intermission
At The Victory Gardens Biograph Theater, 2433 N. Lincoln
Written by Arthur Miller
Directed by Ricardo Gutierrez
Thursdays, Fridays, Saturdays at 7:30pm
Sundays at 3pm
Thru May 18th
Buy Tickets at www.victorygardens.org
Photo by Javier Maisonet.