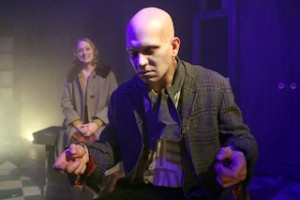 I was a novice to H.P. Lovecraft.  Then on Saturday, I had a crash course about one of the most influential American authors in the horror genre.  The Super Lovecraft Saturday featured a reading of THE DREAMS IN THE WITCH HOUSE and the play THE SHADOW OVER INNSMOUTH.  In between the shows, Lovecraft expert Kenneth Hite led a discussion on the author's life and writings.  I also was fortunate to attend and dine with a couple of Lovecraft enthusiasts.  So, I went into this show with some of the Lovecraft basics….
WildClaw Theatre presents H.P. Lovecraft's THE SHADOW OVER INNSMOUTH.  The Lovecraft's novella is set in an ostracized New England town. Innsmouth isn't a city people visit.  It's a place to avoid.  It smells like fish and the locals look like spooks. Despite the warnings, Brittany Burch (Olmstead) defiantly forces her way into the city limits.  And once there, she becomes engulfed in its supernatural mystery.
Adapter Scott T. Barsotti changes up the horror story by making the Olmstead character a woman.  The significant change makes for a Nancy Drew-like character with edgy tenacity.  As the town secrets unravel, Burch impressively displays cool determination.  She's not a Hollywood horror victim.  Instead of being reduced to a stereotypical female puddle, she is this steely masked heroine. In a pivotal scene, Burch keeps her wits as she becomes the target. Director Shade Murray masterfully uses Scenic Designer John Ross Wilson's revolving set.  Wilson has created multiple movable doors and windows.  They operate independently.  Murray heightens the thriller aspect by having a door or window swing around for a chase indoors and outdoors.
The marveling ensemble transforms from weird villagers to unearthly hunters.  Costume and Makeup Designer Aly Renee Amidei aids the townsfolk in their creepy vibe.  In particularly noteworthy, Jude Roche (Joe Sargent) *is* a busdriver right out of my worst nightmares.  No one should ever get on a bus driven by Roche.  He's scary… real scary!
THE SHADOW OVER INNSMOUTH is a fascinating horror story.  Knowing Lovecraft's style would definitely add to the enjoyment.  Even not being full-versed in the horror    genre, I still enjoyed the show for the social commentary of societal disintegration.  And I also liked it for the disturbing sci-fi aspect of this town.
Running Time:  Two hours and fifteen minutes includes an intermission
At Athenaeum Theatre, 2936 N. Southport
Based on the novella by H.P. Lovecraft
Adapted by Scott T. Barsotti
Directed by Shade Murray
Thursdays, Fridays, Saturdays at 7:30pm
Sundays at 3pm
Thru January 26th
Buy Tickets at www.wildclawtheatre.com