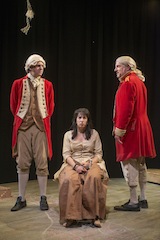 Shattered Globe Theatre presents OUR COUNTRY'S GOOD.
Timberlake Wertenbaker's clever premise imagines the 1788 British export of criminal types to Australia.  The penal colonization is managed by a collection of dignified and smarmy soldiers.  Within this new world, Wertenbaker places a play within a play.  The convicted are forced into theatrical roles.  The coerced opportunity turns redemptive.  The prisoners escape their morbid sentences through fantasy transformation. OUR COUNTRY'S GOOD is a true dramedy.  It's "Waiting for Guffman" meets "Shawshank Redemption."
In Director Roger Smart's production, the play within a play stands out.  Smart's ensemble blossom as actors playing prisoners playing actors.  'Blossom' is the perfect description for the meek Abbey Smith's (Mary) transformation.  Smith is invisible as the fallen women and then radiates confidence as a woman disguised as a captain.  Wertenbaker's multi-faceted characters allow the ensemble to flex their theatrical triceps.  In particular, Eileen Niccolai (Liz) delivers an exceptional performance as the persecuted thief turned English lady.  She zings every one liner with her no nonsense persona.
The play is smart.  Smart makes it playful.  In many of the rehearsal scenes, the pretend actors speak right to the audience.  They hint at our lack of attention span and intelligence for complicated plots.  It's funny.  The over-the-top Kevin Viol (Sideway) brings a slapstick element that garners plenty of laughs.  In a dual role, Ben Werling (Ross/Arscott) brilliantly contrasts buffoonery and brutality.  As a the actor/prisoner, Werling is hysterical.  As a corrupt officer, Werling is horrific… but in an essential way.  Although Werling sharply transitions from comedy to drama, not all the cast are as effective in both mediums.   Whereas the comedic elements of the show snap and crackle, the drama tends to drag.
OUR COUNTRY'S GOOD is good.  With some tightening, it could be great.
Running Time:  Two hours and thirty minutes includes an intermission
At Theater Wit, 1229 W. Belmont
Written by Timberlake Wertenbaker
Directed by Roger Smart
Thursdays, Fridays, Saturdays at 8pm
Sundays at 3pm
Thru February 22nd
Tickets are available at www.shatteredglobe.org, in person at the Theater Wit Box Office or by calling (773) 975-8150.
Production photo by Michael Brosilow